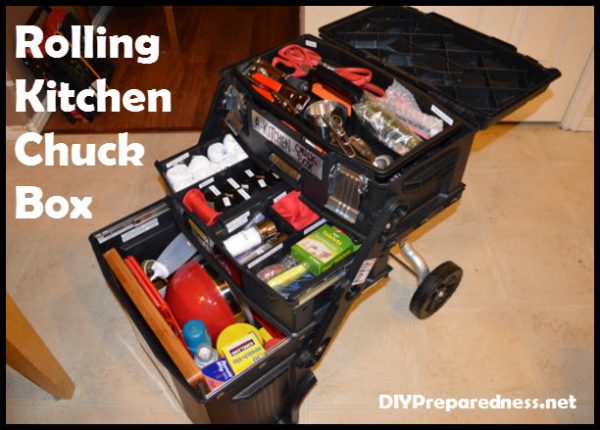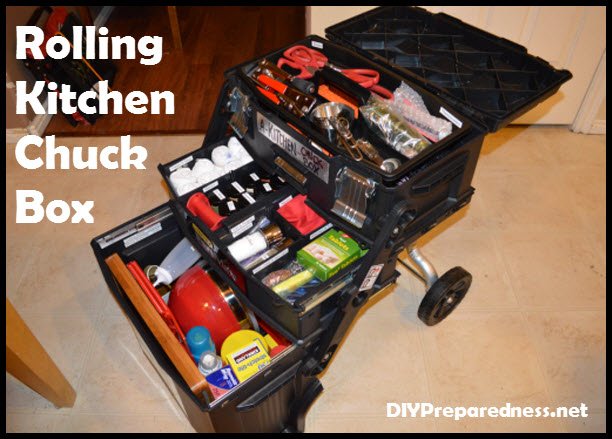 We went camping this October as a family as one last time to be together before my daughter headed out. It was a fun experience, yet I learned that I could be much more organized. We were making a Dutch oven dinner and dessert. I found that all the various items I needed were in different containers, on different tables. Often we were turning around asking where this and that was. It made things a bit more tedious than it needed to be.
==== NOTE: If you'd like to have a Mobile Kitchen / Chuck Box, but lack the time and energy to build and organize it; you can now purchase my Mobile Kitchen Chuck Box here, new, complete and organized, from my new website: preparednesskits.net. ====
Later, I got an idea off Pinterest of a ROLLING CHUCK BOX. I loved the idea and couldn't get it out of my mind. For me, I didn't want a chuck box to house my eating utensils or paperware or even cookware. I wanted a box that has most everything I'd need to make meals while camping. I'd keep my Dutch oven or any pots and pans in another bin since they'd take up most of the space.
So here is what I came up with! Our Rolling Chuck Box. I used the Stanley 4-in-1 Mobile Work Station Tool Box. After looking at several other options, I chose this one, mainly because I liked the stadium layout where I can see all my items at once and get to them as needed.  Then I can close it up and roll it where I need to. If it rains, I can roll it into a tent, or under cover. I love that.
I began making a list. I knew I wanted knives, a cutting board, and some bowls. I wanted bowls that last longer than plastic, so I got stainless steel bowls. I wanted cooking utensils and ways to start a fire. I continued on until I had my list.  Many items I already had, and other items I purchased.
I have to admit, my aim is NOT just for camping. I'm also looking at this as an EMERGENCY KITCHEN – CHUCK BOX!  I'd love to have a lot of items I'd need in here to make meals in the event of a disaster or even bug out. It's mobile after all!
Hopefully this will help if you are wanting to put together a chuck box as well.
Inside the Stanley 4-in-1 Mobile Work Station Tool Box:
In the TOP PORTION CADDY: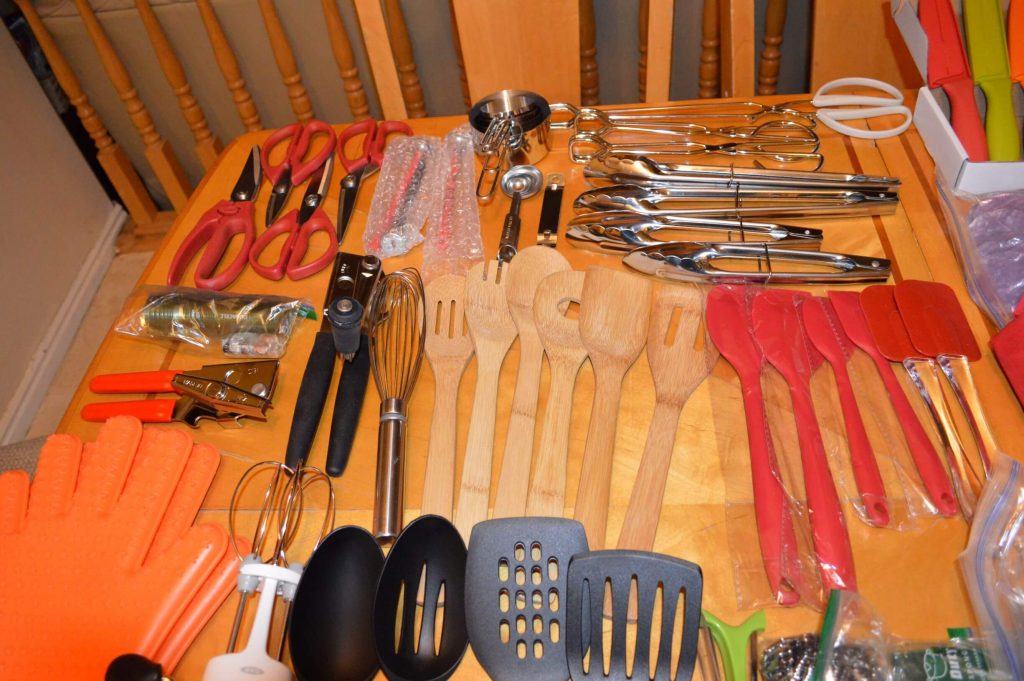 In the TOP PORTION UNDER the CADDY: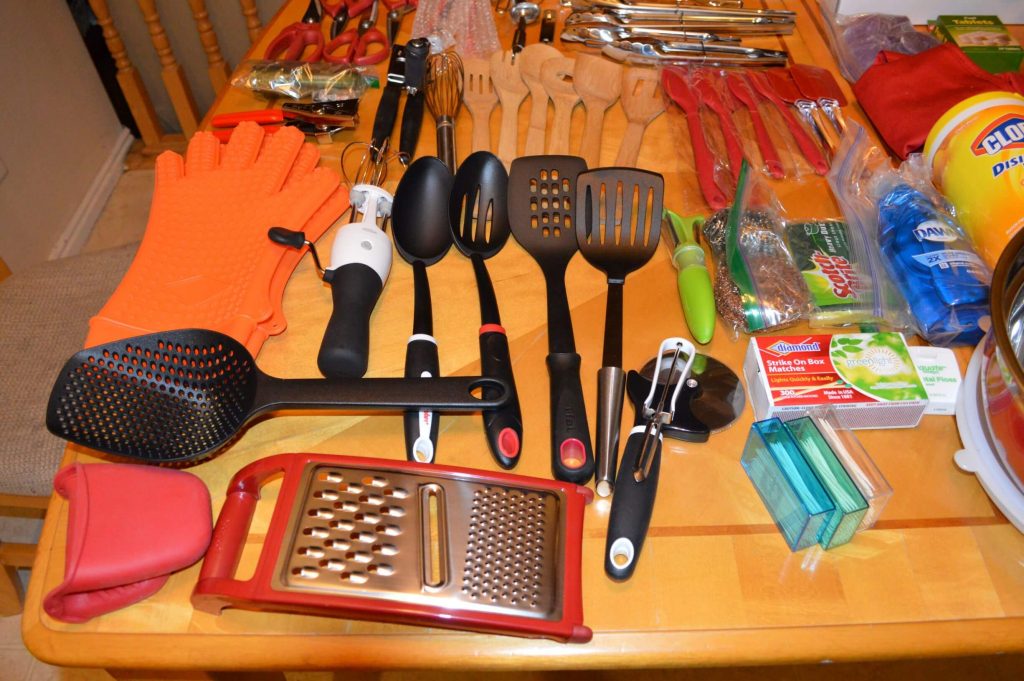 In the Middle Portion:
In the Bottom Portion:
I had to practice how to open the tool box, but once I knew how to open and close it; it was simple enough. You push the locking bar on each side to the unlock position, and then pull up the metal clip in front and slide it out. To close, you pull up the metal clip and slide it closed and then push the locking bar into locked position.
I also put labels inside so that anyone in my family using this will know where things go. I love to label things! But not people, labeling people is not good. (Besides, labels end up falling off people and making a mess)… lol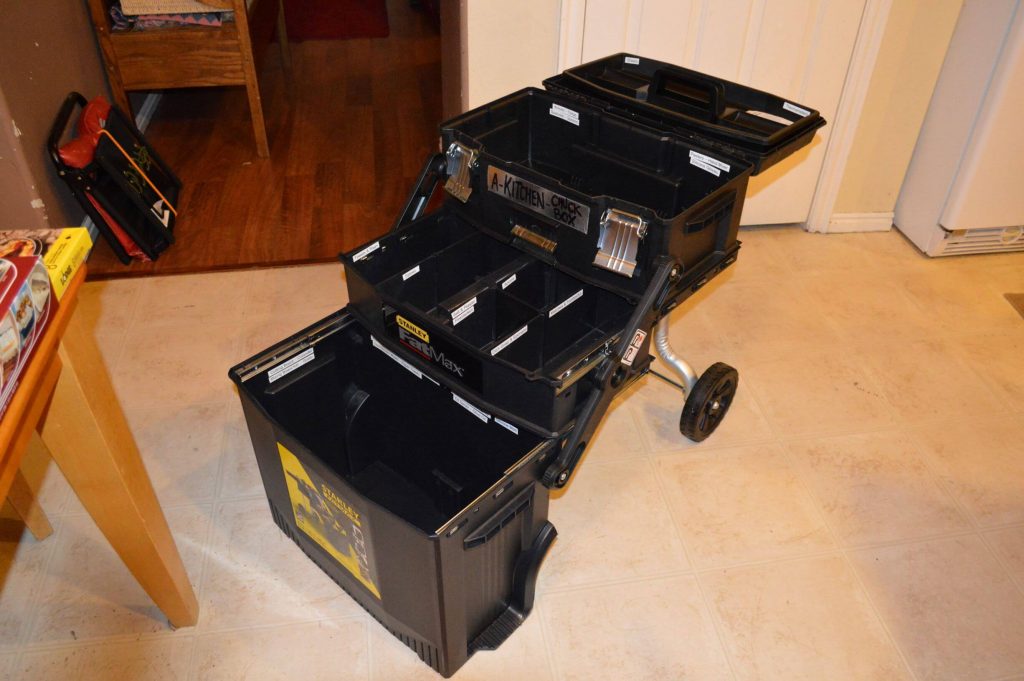 There you have it. A Camping and Emergency Kitchen Chuck Box. Keep it with your camping gear and/or your 72 hour kits.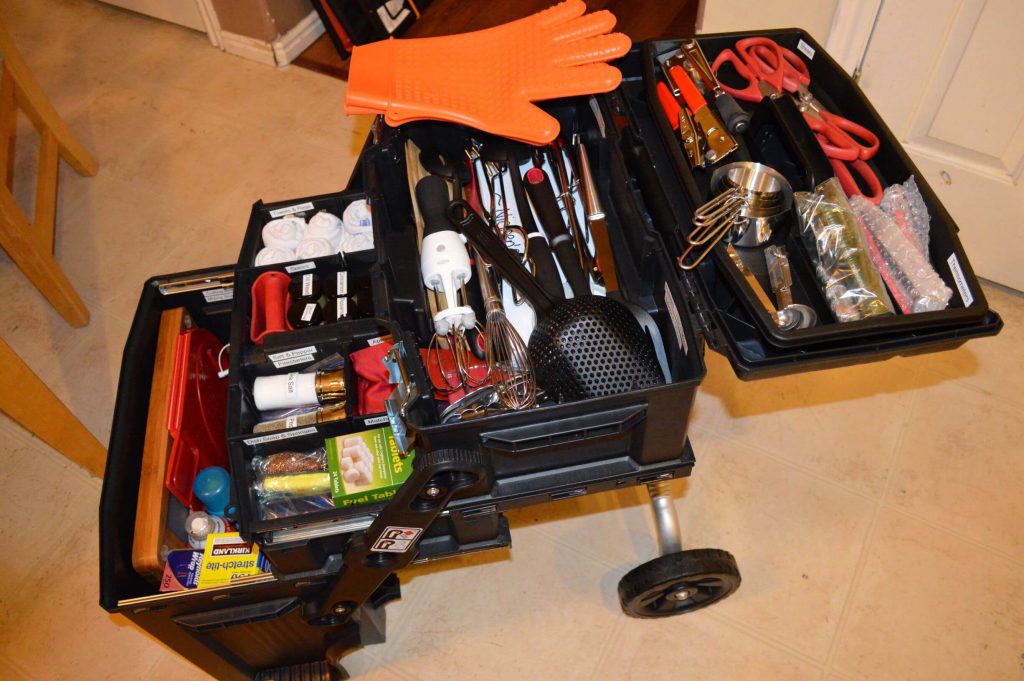 You know, I almost wanted to get TWO of these rolling boxes and include things like eating utensils, plates, cups, etc. and more items for cooking; but then I figured that I will have those in bins and all this is the main stuff that I need to be mobile.
chuck box, chuck kit, emergency kitchen, kitchen box, rolling chuck box, rolling kitchen kit