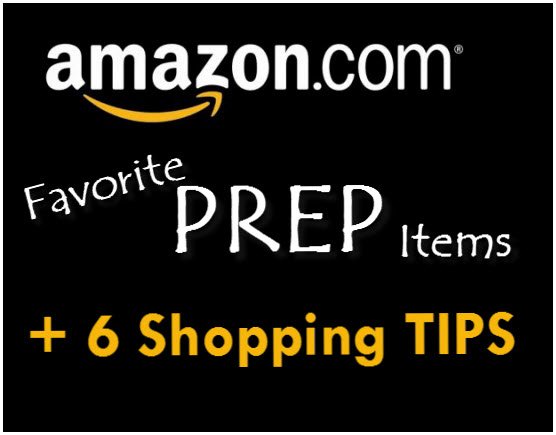 I'm not the most expert on coupon clipping or bargain hunting, but I have done a lot of researching and studying of products and items in the last year for preparedness.  I thought I would share what I personally have found, in the event that it is helpful for anyone else. Please also realize that the things I was researching and purchasing have been what I felt was a need for my family and our preps.  Yours might be different.
TIPS For When Purchasing Items through Amazon and other places online
REVIEWS: I always check the reviews, and more notably the "verified purchase" reviewers as I feel that they are more genuine being they really did purchase the product.  Reviews are essential to me.  They have steered me from products that I might have purchased by warning me of issues or problems with it, and helped me understand if the item would fulfill what I need it to.
QUESTIONS: I look through the questions about the product on Amazon. I can find great information about the product from questions answered. Many times questions I never thought to ask are addressed, which is great.
COMPARE PRICES: I always check for lower prices. I Google products to see if another seller has them lower priced, and I check with other Amazon sellers. I consider the cost of shipping vs. the free shipping that being an "Amazon Prime" customer offers. I also check local selling sites like Craig's list and the online classifieds. Sometimes I find great deals that way.
SHIPPING FROM OVERSEAS: I check for sellers that are shipping from abroad. Sometimes there is a great price on an item, and it's because it is shipping from Hong Kong or China making the wait time to receive it up to a month or longer. Many sellers abroad can and do ship fairly quickly.  However, I did run in to a seller from China that I never received the items and they refunded and even resent the items as a gift for my trouble – yet I didn't get those resent either. Although I got my money back, I wasted over a month waiting for the items.
PRIORITIZE: When trying to get prepared, it's easy to jump on the band wagon and try and get all the things you want in random order. I found that focusing on one thing at a time, or even a few things in different areas at a time helped me from making rash purchases. Start with the essentials for your family, what is absolutely most important.
BUYING GROUPS: If you can get in a buying group for items you need, you can save a lot of money from the discount. For example: My husband and I were looking at the Disc-O-Bed Bunk cots on Amazon. The price was close to $350. Then we found a buying group purchase opportunity that has saved us about $100. Per set of bunk cots. That's a big savings.
While this list below isn't all comprehensive, it will give you an idea of items I have researched and found worth purchasing.
Books
LDS Preparedness Manual – This is so comprehensive, whether you are of the LDS faith or not, this is an incredible resource for preparedness! There is a free PDF version available online, but it doesn't show all the hundreds of pages, and we opted to buy the physical copy so we could really "use" it and take it with us.
The Prepper's Cookbook – I need a cookbook on how to make meals from all my food storage.  After looking through several books, this one seemed like it would be the most helpful for me and I liked the reviews on it, so I got it.
SAS Survival Guide 2E – This is a thick pocket sized little book with tons of valuable information. I'm glad I have it!
The 5000 Year Leap by W. Cleon Skousen – I felt this book was (and is) important to have on hand for my family to study about our country from a source that I trust. The 28 principles of freedom from our Founding Fathers are taught in this book (and unfortunately not taught in our public school system). I feel these are imperative to understand and teach our children to one day save our country and restore the constitution as God intended. In that way, I consider this a Preparedness book!
First Aid and Health Books
Living ready Pocket Manual – First Aid – Fundamentals for Survival – Great paperback to keep with your first aid supplies. Shows the fundamentals.
RNotes: Nurse's Clinical Pocket Guide – This is a pocket sized ring-bound flip book that is easy to flip through and find detailed information on how to handle almost any medical situation. If we can't make it to a doctor or hospital, this book would come in handy. Although in-depth medical knowledge would also be helpful.
Essential Oils Pocket Reference – I was looking for an essential oils reference guide and I found this. It's thick and comprehensive and covers every Essential oil you can think of.  Great reference to have, especially if/when power and the internet goes down.
Medical / Health
Sovereign Silver 4 fl oz – I'm sold on silver.  We were able to ward off strep throat without other antibiotics by taking this 3x a day for a few days.
Sovereign Silver First Aid Gel – This is a great first aid gel. We've already used it many times.
American Biotech Labs Silver Biotics – 32 ounce – I'm sold on silver and its anti-bacterial and anti-viral benefits. I actually have used several different silver products, I liked this one because of the reviews and the more affordable price.
Silver Biotics (silver gel) – A less expensive silver gel that I got to use and for our storage.
Potassium Iodide Tablets (14 tablets) – Plain and simple – this is in case of nuclear radiation fallout.  Each pack of 14 tablets is enough for an adult person for 14 days (1 per day). I feel better knowing that I have this on hand for my family in case of any kind of nuclear attack.
Nascent Iodine 2% Strength 1 oz PURE – This is the most easily absorbed form of Iodine and will increase your energy. Read the reviews on this product and see if it will benefit you to use and have on hand. I did!
Ancient Minerals Magnesium Bath Flakes – I got this to make Magnesium oil – which I have. We've also used it in a foot bath. I believe in the benefits and power of Magnesium in relieving aches and pains and restoring cellular damage. I've read that the best way for the body to absorb magnesium is through the skin like this. You get less actual absorption through taking Magnesium pills.
Thayers Alcohol-Free Rose Petal Witch Hazel w/ Aloe Vera 12 oz. – This is probably the best Witch Hazel out there. It's alcohol free and has aloe vera. It's easy on skin and great to add to your essential oils in treating skin wounds.
Military Energy Gum (6 pack) – My husband has ADD and this is quite useful to help him focus.  We prefer it to caffeinated / energy drinks. Even just chewing on ½ of a piece is helpful. We like to keep this on hand for times of need.
First Aid Items
Hydrocortisone Cream – 25 Packets – Single use packets are great for when you need it quick and even for smaller kits. I've used these in several survival kits and first aid kits.
Triple Antibiotic Cream Ointment – 25 Packets – Again, love the single use packets for using in many kits. Anti-biotic cream is used all the time in first aid situations, too.
Butterfly Closure Strips large 100/box – What can you do when there is a wound that really needs stitching but you don't have access a doctor to stitch it? Butterfly closure strips can be used.  They can even be used instead of stitches. For me, this is a must for my First Aid Kits.
3M N95 Respirator face mask – 20 pack – With the threat of chemical and/or biological warfare as well as plagues; I feel this is an ESSENTIAL addition to our medical supplies! I even think having an extra box or two on hand is wise.
Disposable Earloop Face Mask 50/box – These are important to have. Protect yourself and others that you are around when people are sick. Also after an earthquake when there is dust and debris everywhere. It's easier to use these cheaper ones when you don't have to use your N95 mask, but still need some protection.
Kirkland Signature Nitrite Exam Gloves 400 ct – I had previously bought glove on Amazon, but these ones at Costco I found to be a better value. Exam type gloves are a MUST for first aid supplies. They are good to wear when you are dressing would and caring for sick loved ones. Another item that is good to have a few extra boxes of.
Water Jel, First Aid Burn Relief – 25 dose packets – This stuff works well.  We've used it recently on a 2nd degree burn and it relieved the pain and was mostly healed by the next day. I want more of this stuff!  Essential for a first aid kit.
Sterile Self-Adherent Stretch Sensi-Wrap Bandages – (Pack of 10) – Bandages to wrap up wounds after you've dressed them or to keep them dressed and protected I feel are essential.  I love these self-adherent stretchy kind.
Cinch tight Bandage – I had heard of the Israeli bandage and even the H bandage and watched videos on how they can be used and even save lives in situations where wounds are bleeding/hemorrhaging quite a bit; or even bullet wounds. I felt it was important to have a few of these bandages on hand, so I got these hook ones which were the least expensive yet do the same job.
Thermometer Oral Mercury Free – It's hard to find a Mercury Free oral thermometer these days.  I can't find them in any of the drug stores I've looked at. I should probably get a couple more! Great to have on hand, especially in an emergency. They will last longer than those digital ones that need batteries.
Think Safe 7" Trauma Shears – You never know when you will quickly have to get through someone's clothes to treat a wound.  I wanted to be ready with these trauma shears in my first aid kit.
Ammonia Inhalant Capsules (box of 10) – We don't always think of having ammonia pills in our first aid kits, but it would be very helpful for when we need to quickly wake someone up or help them be alert. One of those items to help your kit be more comprehensive.
First Aid – Dental
Dental Tartar Scarper and Remover Set Stainless Steel – If you can't make it to the dentist but need to clean and maintain your teeth, it would be smart to have some efficient tools on hand to do so. That is why I picked up these.
HurriCaine Topical Anesthetic Gel – I decided to get this as a more powerful tooth and gum pain relief than just Anbesol.  Works within 20 seconds and is the same product used by dentists – great for numbing tooth/mouth pain.
Food and Water for Kits
S.O.S. Rations Emergency 3600 Calorie Food Bar – 3 day, 5 yr shelf life – I'm using these in my 72 hour kits as it is much cheaper than MRE's and I can supplement with snacks.
SOS Emergency Water Packs (12 packs) – I got these for our 72 hour kits. I will also include water purifiers but wanted some form of emergency water in the packs.
Sawyer Product's Mini Water Filtration System – I like the ratings of the Sawyer water filtration products, and these are great for 72 hour kits. This is a 4-pack and priced well, I thought. Great for 72 hour kits.
LifeStraw Personal water Filter – I got a couple of these too, for water filtration. I'm not sure which is best, the Sawyer or Lifestraw – but I feel they are both good products to filter water.
Lights
LED Solar Rechargeable Lantern –  The reviews looked good on this, out of all the other solar rechargeable lanterns I looked at. So we have gotten two of these for our emergency use or camping. I haven't used them yet, so I can't give a review but I'm hopeful they are a good buy.
Dorcy Waterproof LED Flashlight 55 Lumens – I researched many less-expensive LED flashlight and found that I liked this one. So I got 6 of them and I was happy with how they tested out. Great little light!
CREE LED flashlight Adjustable Focus Zoom Light – I was impressed with these lights.  They are bright, small and give good light for the battery usage.  I have them in our 72 hour kits and car emergency kits. I wouldn't mind more of these.  Usually ship from China so make sure the seller has a good rating and consistent Shipping.
Toiletries
Tote-able Toilet Seat and Lid – I liked these toilet seats because they have a rubber gasket in the lid to keep odors in. They fit right on your 5 gallon bucket.  I had also seen some other cheaper ones in a camping store, and I like that these toilet seats seem a little sturdier than those ones.
Perineal Irrigation Bottles (3 pack) – I keep these in my 5 gallon emergency toilet bucket for use as a personal bidet when needed (along with toilet paper and baby wipes).
Cooking / Fuel
Gas One Portable Butane Gas Stove w/ 4 Cans Fuel – I saw a butane stove demonstrated once and loved how easy it works and how it can be used indoors unlike the propane stoves. So I picked one up for camping or if the electricity goes out.
GasOne butane Fuel Canister (12 pack) – Fuel for the Butane stove. This was a better price than I found in the sporting goods/camping stores.
Metal Space Saver Cup – I like these metal cups that you can cook food in as well as eat from. I got one for every member of my family. The price on these seems to fluctuate, but at the time I got them, they were less than $8. each
Sleeping
Teton Sports Celsius XL 0 degree F Flannel Lined Sleeping Bag – After reviewing and researching TONS of sleeping bags, I decided to give Teton brand a try as it had everything I was looking for. We gave it as a gift for my older son for Christmas.  We all loved how compact it was, yet comfortable when opened up and inside. The mummy type hood holds the pillow in place. We are happy with it so we've purchased the Teton brand sleeping bag for the rest of our family.
Teton Sports Celsius XL -25 degree F Flannel Lined Sleeping Bag – I prefer the -25 degree F bag as I do not like cold in the least, but the rest of my family we got the 0 degree. Hopefully when we go camping, we will always be inside a tent.  I also have purchased an extra large Teton cot, and it is huge.  It holds up to 600 pounds and has more physical space for those who need more room or are just larger folks.
Fire and Firestarting
Chainmaite Survival Pocket Chain Saw w/ Pouch – I image cutting wood for campfires, and this will come in handy and be super easy to store.
GERBER Bear Grylls Fire Starter – Although I do store matches, I felt that a durable rod and metal fire striker would also be smart to have in my emergency supplies.
Manual Pencil Sharpeners – These are great pencil sharpeners that I got for my fire-starting gear. The metal blade inside is sturdy and will work well in creating shavings from twigs and small branches to help in starting camp fires.
Tools / Rope
200 foot Paracord – 750 lb – There are many sellers of paracord and I believe they are all of value.  I tried this because of the higher pound (750 vs 550) and because of the reviews.  I don't' think we can ever have too much paracord!  There are just endless ways we can use this tough durable rope!
Lansky Dual Grit Sharpener – I wanted a good sharpener for our axe and this is what I found.
Pocket Knife Sharpener – I small pocked sharpener for all types of pocket knives
Used for my Altoids Tin Survival kits & Other Kits:
Multi-Tool Key Chain – I really liked this multi-tool for my Altoids Survival Tin.
Survival Pocket Tool (thin like a credit card) – My husband liked these. They are small and flat but made from metal and have so many useful tools included.
10 pack Mini LED flashlight Keychain – These are tiny lights but can be very useful when you don't have any light. They have a turn off/on switch so they won't be accidentally pushed on while in your kit. These usually ship from China.
Mini Compass Variety Pack – 10 pack – Mini compasses fit in survival tins just right.
ProForce Wire Saw – This is a compact saw which is the perfect size for a small kit.
Swiss Army Classic SD Pocket Knife – Great little pocketknife that fit perfectly in my Altoids Tin.
Mini Cable Ties (4") 100 Pack – I put some of these mini cable ties in the Altoids Survival tins I made, they can come in very handy.
Lot of 10 Credit Card size Wallet Magnifiers 3X Lenses.  Magnifiers can be used as a fire starter.
Emergency Whistles Keychains – 5 pc – It's always good to have an emergency whistle in any kit.
8 in 1 Multi-Function Stainless Steel Tool Set (Hammer, Wrench, Pliers, Saw, Knife). This is a decent little tool, great for the car emergency kit!
OTHER ITEMS I found at Great Prices:
12 x 16 ft. Heavy Duty Tarp for $12. at Costco
2-pack Industrial Grade Duct Tape for $8. At Costco
Tarp clips for under $4. at Walmart
5 gallon Plastic Gasoline Containers under $13. at Walmart (they were all gone a couple days later)
50 pound bag of Sea Salt for $20. at Win-co
Amazon, Amazon buying tips, Camping, camping tools, Costco, emergency tools, First aid kit items, good deals at Costco, good deals on preps, health books, Medical books, prep items, Prep tools, Preparedness books, preparedness shopping